Well. This is my first attempt at a full-blown play-by-play of Fashion Week, and I have to say, I couldn't have asked for a better place to start. Despite its impracticality, nothing in fashion fosters bigger risks or stronger opinions than couture - and I hope that my very green (experientially, not environmentally) analysis can help make the otherworldliness of high fashion a bit easier to understand.
First on the chopping block: a designer so new, he doesn't even have his own Wikipedia entry yet.
Alexis Mabille
is a 30-year-old French designer best known for his key role in the bows-as-accessories trend (here's looking at you, Blair Waldorf!). Apparently, the driving image for this collection was that of a girl waking tangled in her bedclothes. Being the champion of frivolous sleepwear that I am (my nighties are a source of ridicule among my friends), I was fully prepared to fall in love with any collection that could merge two of my favorite things: fashion and naps.
These three looks are my favorites from the show. They're thematic, yet gorgeously wearable at the same time. I love the movement in the ribbons on the two right-hand dresses, and the styling of the first outfit is brilliant - the contrast of the prim organdy blouse with the short skirt and snakeskin sandals is the stuff of mix-master legend.
A few more well-executed (if unexciting) stabs at the maiden-swaddled-in-nightclothes concept:
The rest of the collection, while admittedly more "couture-y," is kind of a mess. A mess that ranges from flagrant disregard for flattery of the female form (with black lace leggings adding insult to injury)...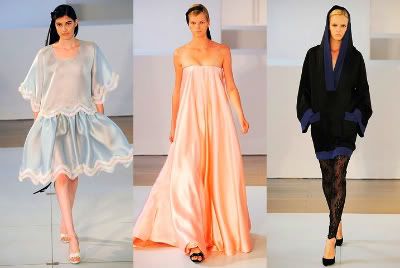 To near-nakedness...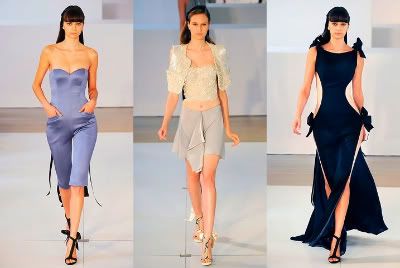 To some classic runway-style WTF-bombs, like a deep-v-cut-harem-pant jumpsuit/a lace-trimmed saran wrap toga/glittery elbow-length shackles worn with a lumpy librarian jumper.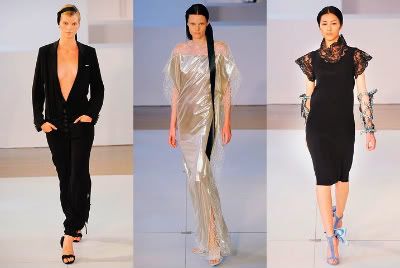 All things considered, I think Al's having a bit of an identity crisis here. Browse through the entire collection on Style.com and you'll see what I mean - it leaps from lingerie-style dresses one second to tailored suits the next, with a mind-numbingly boring or randomly Gothic piece popping up in between. I'm kind of over white eyelet fabric, which is a major focal point of his collection - and while I can appreciate clothes that are fun and over-the-top, a lot of his more outrageous pieces are just, well,
ugly
. Mabille is young, and clearly still getting his sea legs about him as far as staging a full couture show goes. I'll be interested to see how his work evolves over the next couple of years.
Grade: C.
A designer to keep on the radar, but nothing to sell your firstborn for. Yet.