Every now and then, you come across a pair of shoes so special that everything else - your Starbucks fetish, your credit card debt, your need for textbooks and/or a home - disappears. This is called a shoe crush, and it is a serious affliction.
Now, I'm no Becky Bloomwood, but I allow myself one extravagant (for a college student in Chicago) pair of shoes per summer, with the qualifier that I have to first maintain a serious shoe crush over at least two months' time. Last year it was
a pair of burgundy patent peep-toe Mary Janes
that I salivated over on my way into the mall every day for my retail job. As my friends can attest, they were worth every penny - I loved them to death (and subsequently wore them to death - that thing they say about replacing the plastic heel caps before they wear off completely? Yeah, do that.). Rewarding yourself for hard work with something you've consciously saved for is an excellent reminder not to waste money on the trivial.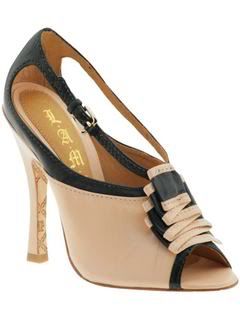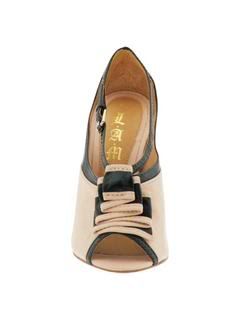 Maybe I'm still reeling from Dior's black-and-nude duos in the Fall '09 couture show, but when I stumbled across these L.A.M.B. heels this morning I nearly dropped my iPod Touch in the pool. How perfect would they be with everything from a little black dress to pegged boyfriend jeans and a cardigan? With bright colors
and
basics? With black tights
and
without? This is it for this summer, folks. These are The Ones. I'm just praying I can still get my hands on them at the end of my two-month waiting period - they sold out in my size on Piperlime within literally an hour. Nordstrom, wait for me!
P.S. Runway reviews are in the works for Jean Paul Gaultier and Valentino. Couture is exhausting. I needed a break.