As someone who was (go ahead, throw tomatoes) born with near-perfect skin, I seem to have missed that vital stage in adolescence when one is introduced to the notions of foundation and concealer. Here I was, trotting around my high school harvesting compliments in nothing but mascara and moisturizer; taking for granted my blemish-free existence and judging friends who had yet to master blending along the edges.
So imagine my displeasure to
now
, at age 20, be tossed unarmed into the wild world of, well...oil. I'll spare you the gory details, but suffice to say that I've been looking a little shiny in photographs lately. What's the deal, glands? Quitting so soon? Two measley decades and you throw in the towel? Whatever the cause - stress, hormones,
not
diet because I eat better now than ever - but I'm not bitter - karma has gotten the last laugh, and it seems the time has come for me to take a nosedive into the skincare aisle. First on the list: a lightweight foundation that can stand up to summer in sticky Washington, D.C. (which was built on swamplands, for the non-locals among us). Gulp.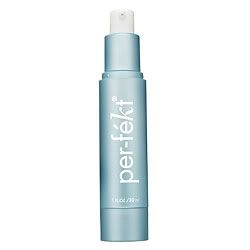 Disclaimer: this stuff is not cheap. While I'm willing to skimp on things like white ribbed tank tops (Target, little boys' section - ya can't beat 'em!), anything that goes on or around the face is, to me, worth splurging on. Having had bad reactions to drugstore foundations and the mid-range, widely-loved Bare Minerals starter kit, I find that a pricey tube that will last me months is less costly than the loss of dignity that results from poorer-quality products.
But on to the positives: I'M IN LOVE. WITH A LITTLE BLUE BOTTLE OF $58 FOUNDATION. I have never tried any product that appears so natural but makes such a world of difference. My skin not only
looks
amazing - zero redness, invisible pores - but because Per-fékt foundation is silicone-based, it
feels
incredible too. We're talking baby's bottom territory. And I hate that phrase, so you know it's serious.
A couple of caveats: a little bit goes a long way, so have a salesperson show you how it's meant to be applied (start with the nose and spread outward, and don't use too much or it'll begin to flake). And test-drive it in the store first, because it
is
very lightweight - great for those of us who can hide our blemishes behind a sprinkling of freckles and a few swipes of bronzer, but not designed to mask more intense skin problems.
So maybe my skin, even at age 20, can no longer be perfect. But with a little cash, it can stay
per-fékt
for some time to come.