I skimp when buying:
...Tights? Let's be real here, I'm not much of a skimper.
I splurge when buying:
Underwear, perfume, make-up, high heels. Any clothing item I can justify to myself. So everything, really.
I always break this fashion rule:
Wearing black and brown together. Wearing black and navy together.
I never break this fashion rule:
Wearing a Canadian tuxedo that matches my significant other's.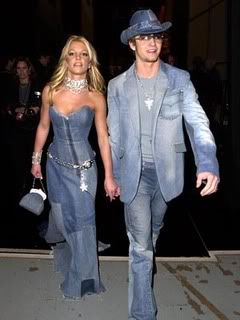 Must-have item for Summer 2009:
Metallic gladiators, navy men's blazer, multi-chain necklace, tons of v-neck t-shirts. Jersey dresses in every color of the rainbow.
Favorite store:
H&M. Urban. American Apparel. Any boutique or vintage shop.
Style icon:
Carrie Bradshaw (not to be confused with Sarah Jessica Parker).
Most cherished accessory:
Gold necklace with tiny sun charm, cubic zirconium stud earrings, emerald and citrine cocktail rings - all courtesy of my late and terrifically elegant French grandmother, Jeannette Cavalier.
Favorite item of clothing:
Red Keds, watercolor Matty M top with braided neckline, any of my 1950s prom dresses from eBay.
Favorite "fashion-y" movie:
The Devil Wears Prada
.
Guilty pleasure:
Black high-waisted skirts. I own at least four.
Describe your personal style:
Girly and eclectic.
I feel best wearing...
A day dress with platform heels.
Personal style quirk:
Wearing a broken watch.
Most overrated item:
Crocs. I don't care how comfortable they are: you look like a dumbass.
Most underrated item:
A great skin-colored torture thong.
Most stylish city:
Paris.
When I was high school I wore...
Freshman year: Pretty minis, my cropped jean jacket and a side ponytail with a hair ribbon.
Sophomore year: Lots of sparkly clothes that were in retrospect entirely inappropriate for daytime.
Junior year: Victorian tops. Preppy classics. Cowboy boots.
Senior year: Vintage dresses with black footless tights and ballet flats.
Shine your own shoes?
Never. But I've colored scuffed toes with a Sharpie.
Favorite fashion magazine:
Harper's Bazaar
and
Elle
.
Perfume
:
Betsey Johnson for spring and summer, Tocca "Stella" for fall, and Lolita Lempicka "L de Lolita Lempicka" for winter. All of which are composed of some combination of orange and musk/praline/vanilla. At least I'm consistent.
I always dress my best for...
Whenever I know that cameras will be present.