Poor Miley Cyrus. She just can't win. One second she gets slammed for being too bubblegum; the next, she's demonizing our nation's youth by showing her back on a magazine cover. I'll admit that I find the idea of her autobiography -
Miles to Go
, an inside look at the first sixteen years! - a bit ludicrous. But all things considered, it's not easy to grow up in the public eye, and Miley has managed to find a happy medium between Disney drone and crackwhore.
So here's my confession: I LOVE MILEY CYRUS. And what's more, I'm not ashamed to tell the world why. In honor of a song I've rocked out to everywhere from sorority house dance parties to the confines of my Maxima, here's a list of seven things about Miley I have found to be entirely worthy of our adoration.
1)
Hannah Montana.
It's sweet. It's entertaining. It's completely outlandish, and a key bonding point for my twelve-year-old sister and me.
2)
"See You Again."
Is there anyone who doesn't love this song? It made a cameo as my ringtone for about four months, changed only because waking up to its addicting bridge meant it looping through my head all day long. I still blast this one to get pumped before a big night out. I have Miley to thank for my liquid courage.
3)
Her 2009 Oscar dress.
Say what you will about scalloped potatoes, but I see the Cinderella gown every little girl dreams of wearing. Pulling off this much fabric takes serious pluck, and girlfriend managed to wear this dress
without
it wearing her.
4)
Her controversies
, most of which have to do with Miley's being an open-minded, outspoken person. There's something endearing about how, much to the chagrin of the AFA, Miley publicly declared herself both a Christian
and
a proponent of gay marriage. They're still praying that God will show her the light. I'm still saying: GET IT, GIRL.
5)
Her wardrobe on the Hannah Montana: The Movie press junket
. I'm 100% in love with all four of these outfits: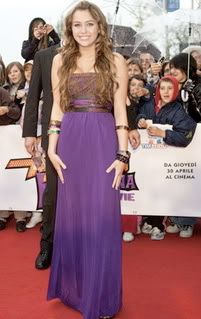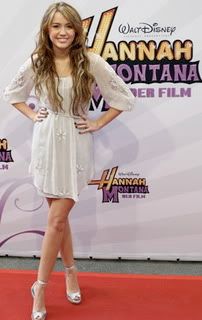 I also wish she would stand up straighter...but hey, you can't win 'em all.
6) She dated Nick Jonas. Whether you love or hate the JoBros, he is the Justin Timberlake of this generation of preteens. The fact that she ended the relationship quietly and with class also speaks volumes about her maturity, especially when compared to more, er, dramatic starlets (Taylor Swift, anyone?).
And finally...
7) She is the offspring of the man who brought us "Achy Breaky Heart." Miley may be a lot of things, but genetically irrelevant is not one of them.