I've never been a fan of discount designer lines. They strike me as the epitome of buying something solely for the label attached. With the exception of Marc by Marc Jacobs (still not all that "discount") and a sprinkling of few-and-far-between successful capsule collections, I find that big-name designers usually balk when met with the inexpensive materials needed to produce at a lower price point. The result? A "designer" item that aims too high and ends up looking like just that: a cheap imitation of the real thing. The masses will buy it because it's Rodarte or whatever, but I think inexpensive clothing is best left to those who know how to handle it (H&M, Zara, Topshop). Creating discount fashion requires a simpler touch than most couturiers bring to the table.
However.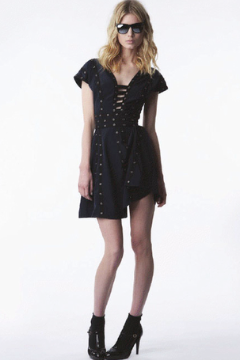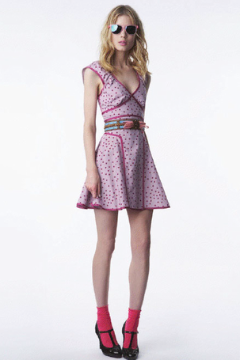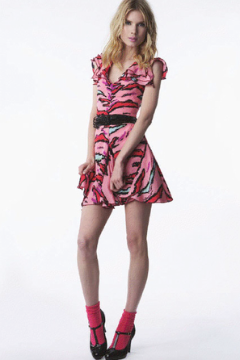 Zac Posen for Target's GO International line is one glaring exception to the rule. These four dresses are divine - they manage to capture Zac's unique flavor without looking froufrou-y or over-the-top. I would kill for the black dress with the snaps - such a flattering shape, with just the right amount of edge - and the braided belt on the lilac floral slip dress is delightfully quirky. Zac was smart to work with prints; they typically take to bargain fabrics much better than solid colors.
This lipstick tank has been hailed as the signature piece of the collection. Talk about a chic graphic tee for summer. This would pair beautifully with jean shorts, a breezy cardigan and leopard flats for weekend, as well as a tiny skirt, leather jacket and lethal heels for a night out.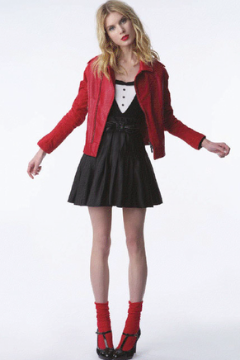 This leather jacket (in "Target red") is the most expensive piece in the collection, at just under $200. It's real leather - and looks nice enough in the photograph, I suppose - but I'm wary of buying anything that costs $200 at Target. I feel like it defeats the purpose of the collection. At that point, you'd be better off saving up a little while longer and springing for a leather jacket from a more reputable brand.
There are a few other aspects of the collection that awaken my inner skeptic - a series of gold lamé swimsuits, for one (leave those to American Apparel, Zac!) - but overall, I was pleasantly surprised by what Posen had to offer. Apparently, it's not cruel enough for him to simply be
woefully unattainable gay eye candy
. He has to go and make me want to shop at Target, too.