Lacy tights, funnel necks, Victorian-style booties, and trains on everything from skirt suits to minidresses were the name of the game for Karl Lagerfeld and the venerable house of
Chanel
. Anyone who follows pop culture knows that Karl is pretty much off his rocker, so to see a relatively understated couture show from him is shocking in and of itself.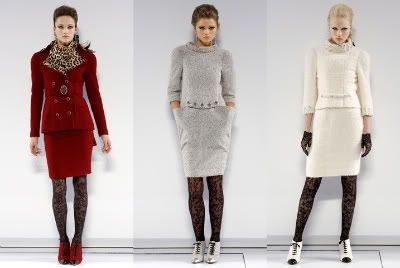 That's not to say the clothes weren't impeccably crafted; as per usual, the suits and dresses are to die for. I adore the pairing of the cameo brooch with the edgy leopard trim in the suit on the left. Upturned pockets give shape to a basic silver shift in the middle photograph, and the subtle luxuriousness of jeweled embellishments against winter-white wool (on the right) is about as elegant as it comes.
There were a few LBDs that made my heart stop beating...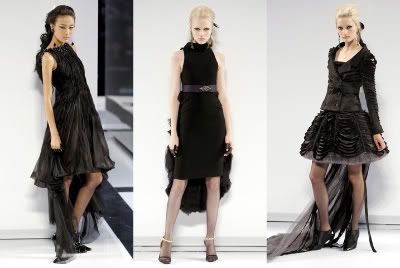 ...And a couple of Oscar-worthy gowns that
almost
made me want to become an actress again.
(I'll wear one to my book party.)
Another staple of the collection was what can only be described as high-fashion algae.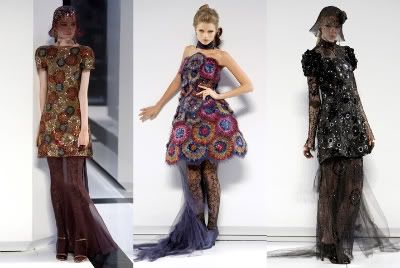 Wild, right? And by wild, I mean that if I saw it growing in
my
closet, I'd be concerned. So see? It's okay. The nutty Karl we know and love is still in there. And just wait, it gets better: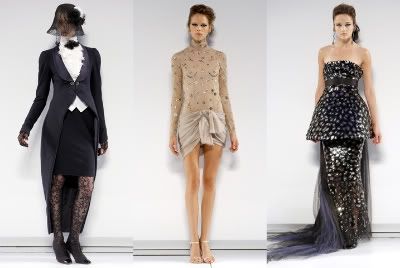 Grade: B-.
Because I hold Chanel to a very high standard. Sorry, Lagerfeld - you did it to yourself.