Poor
Christian Lacroix
. For all of this season's cutbacks due to a shaky economy, his story is the most heartbreaking. Earlier this year, Lacroix's financial backers laid off all but 12 of the company's workers due to "financial problems" (according to Lacroix in a
New York Times
interview, a "lack of chemistry" between the business and creative ends of the label). Though Lacroix, a designer known for his folk influences and theatricality, is determined not to see this upset as the end, his Fall '09 production is hailed as his "last couture show" - with everyone but the models working essentially for free.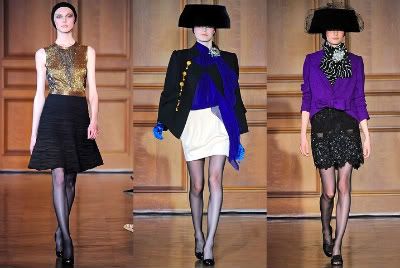 The collection was small - just 24 looks - with rich fabrics and colors creating a somber Paris-meets-Russia vibe. The shock of blue in the outfit with the white skirt is breathtaking. I may have actually choked.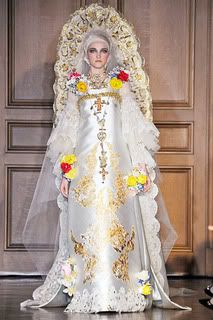 When the final piece - an ornate yet somehow funereal wedding dress - came down the runway, the show closed to a standing ovation and many, many tears.
Grade: B+.
I'll be honest: it's not my cup of tea. But given the circumstances and aims of the collection (integrity to the label, approachability toward new investors), Lacroix put forth some truly admirable work.