When it comes to spectacle on the runway, nobody puts on a show like
Christian Dior
's John Galliano - but as we learned from the scaled-back showroom setting of his Fall '09 couture line, Galliano's is a drama that would appear to be innate. Inspired by half-dressed models backstage and the exclusive simplicity of 1950s-era showrooms, the Dior collection still managed to exude an air of life and luxury. Bright sorbet colors, peekaboo lingerie and models dripping in jewels and dramatic
chapeaux
were the mainstays of a line that reasserted to the world what, exactly, Christian Dior looks like today.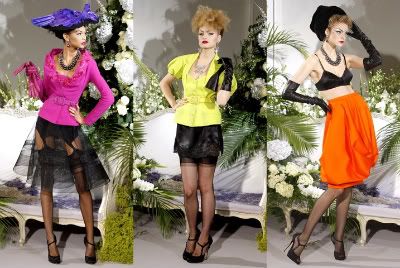 Could I
be
more obsessed with the styling of these looks? No. No, I could not. Granted, I may be biased by my weaknesses for both nipped waistlines and partial nudity, but vintage flair crossed with risque modernity is what makes this show so unbelievably sexy.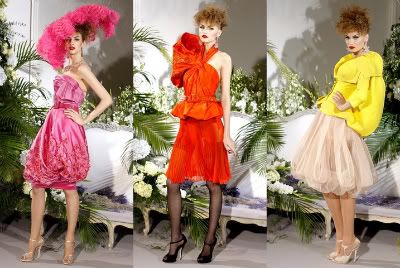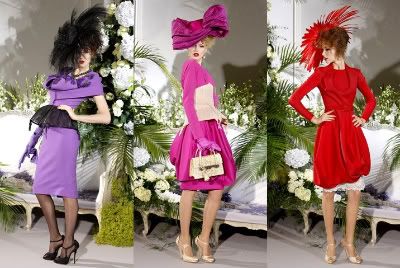 Galliano showed both punchy colors and classic neutrals, which feel no less special despite their lack of pigmentation: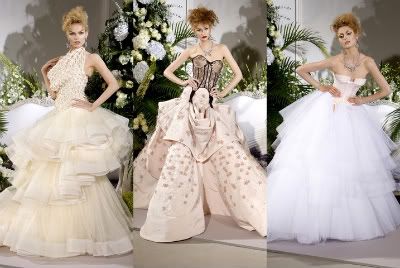 The gowns have an old-school Madonna/Jean Paul Gaultier feel to them, with corseted tops and full, frothy skirts. The center dress is so interesting - the way it stays fitted through the hips, garter straps dangling, instead of flaring out as soon as it hits the waistline? Not quite as universally flattering, perhaps, but certainly innovative. In other news, I think I may need a Dior hat for next year's Kentucky derby.
Grade: A.
So Galliano didn't reinvent the wheel - but given the state of the economy, who can blame him? The clothes not only made for an entertaining couture show, but also provided we mere mortals with a wealth of ideas to copy on a budget (who else is ready to go buy sparkly brooches, black slips and nude heels?). The show was cohesive without being stagnant, and the understatedness felt like a choice, not a necessity. Way to take the economic climate and make it work for you.