They say two heads are better than one, but who says heads should have all the fun? Lately, some of my favorite accessories have been cropping up in pairs.
Basic pashminas are a staple for any season. But if you're tiring of the same old solids, try a mishmashed look à la
Jane Aldridge
in the above photo. I'm pretty sure Jane is just wearing one two-tone scarf, but a similar effect can be achieved by winding two pashminas together: simply line up the ends and wrap as you normally would. Not only does the double dose of color lend some depth to your outfit, but two times the fabric also equals two times the protection against that bitchy Chicago wind (or East Coast tempest, to keep things topical).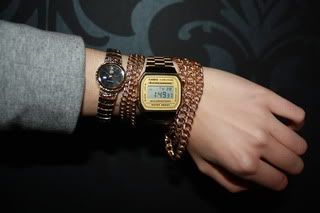 My watch fetish has been placed on a temporary hold due to the healing of my new tattoo (avert your eyes, Mom!), but I'm itching to give the look of doubled-up tickers a try (seen here on
Andy Torres
). Don't just throw on any two watches, though: keep them in the same stylistic and color families. Antique-y leather worn against
futuristic plastic
will leave you looking like you got dressed in the dark.
What's next? Double sunglasses? A purse on each shoulder? Maybe. For now, though, let's leave those stunts to Gaga.