So
moms
, right? Talk about a defining relationship in a young girl's world and wardrobe. Yeah, you heard me - as much as we like to believe ourselves to be far removed from our parents' outdated, unflattering, and sometimes downright embarrassing sartorial choices, a large part of what shapes our personal style is what we see on M and D. Though I'll cede that shopping with my mother invariably results in a series of mildly offensive "yeah, that's cute...
for you
" jibes, I would be lying if I claimed not to have borrowed bits and pieces from her fashion sensibility. After all, she
was
the best-dressed member of the Brandywine High School Class of 1976. In honor of Mother's Day, here are the top five fashion lessons I've learned from my mother, the ultrafabulous Gail Bailey Roberts.
Don't be boring.
Gail owns an art gallery, and her love of the creative shines through in spades in her clothes. Peruvian knit sweaters, 1970s-inspired caftans, funky peasant blouses, and jersey separates in unconventional shapes are just a few of the items I've pilfered from her wardrobe over the years (sorry, Mom!). While the average Joe on the street might not "get" what she's wearing every day, her willingness to take risks is something I'm thrilled to have inherited (and perhaps why she shares my obsession with the inimitable Lady Gaga).
Bedazzle yourself.
I've talked about the Roberts family jewelry gene
before
, and I can assure you that our matriarch is no exception to the rule. Silver bracelets, chunky necklaces, and anything with a wine motif are my mom's baubles of choice. After all, this is a woman who keeps a sign in our kitchen that reads, "Wine. It's not just for breakfast anymore."
Believe in the power of the purse.
My mom is to purses as I am to shoes; that is to say, she has a fetish that will in all likelihood never be satisfied. Though her taste is wildly different from my own (I get weak in the knees for a classic Chanel 2.55; she prefers her purple pleather satchel with multicolored zipper rosettes), I am frequently amazed by the dimension her handbags add to her ensembles. Gail's stash of crazy purses are an excellent reminder that lugging around your personal belongings can be more expressive than exasperating.
Buy outfits, not just separates.
This used to drive me crazy when I was younger and had spare pairs of jeans coming out of my ass, but as I've pared down my wardrobe and been forced to accept that I am not, in fact, Imelda Marcos (yet), I've found one of Gail's favorite shopping strategies to be admittedly useful. As fun as it is to buy statement pieces, what's
not
fun is having a closet full of things you can't wear because you have nothing to pair them with. There's something reassuring about coming home from a marathon shopping trip and knowing that you're not going to have to put forth a similarly herculean effort just to wear your haul out of the house.
Dress for the occasion.
Like most mothers, Gail loves to needle me about what I'm wearing. "Why are you so dressed up to go hang out at a friend's house?" "Really? You're wearing
that
to
school
?" My first instinct is always to overdress, but my mom's commentary on my clothing has played a big role in mellowing me out and making me, I think, ultimately more stylish. After all, anyone can be fierce in heels and a miniskirt. It's learning to make your ripped jeans look like the second coming of Kate Moss for a movie night that puts you on a whole new playing field.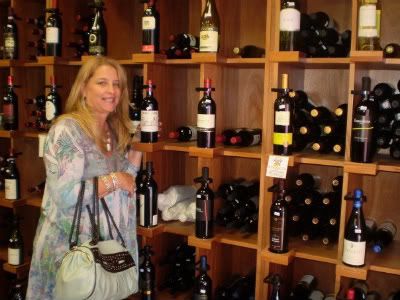 I love you, Mom! Thanks for the good genes. Happy freaking Mother's Day.