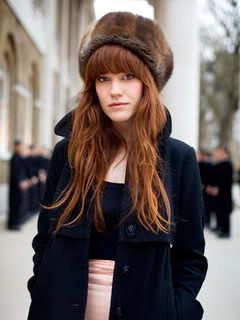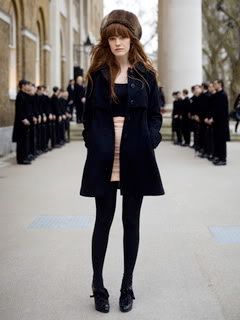 So. Here's the story:
a) The photograph is courtesy of French fashionista Garance Doré, whose self-titled
blog
is always brimming with charm and inspiration. Her boyfriend is street-style photographer Scott Schuman. Perhaps you know him as "The Sartorialist." Yes, really.
b) PETA might come after me with paint cans (I'm one of those morally confused vegetarians who's involved in a torrid love affair with leather), but I would slap a fur trapper onto the list of Winter '10 essentials. These czarina-worthy chapeaux add a rich, cozy touch to otherwise austere outerwear. Whether yours is made of mink or, uh, synthetic materials, stick to satin lining for minimal hat hair. A subtle silvery sheen renders this look its most modern. Earflaps? Up to you.
c) Dear Girl In Picture, if you happen to stumble across this blog, please send me the name of the person who does your hair. Sincerely, Emma Aubry. P.S. Love the black and navy. Not sarcasm. Actually my favorite color combination since seafoam and silver.