In fifth grade, my favorite outfit was as follows: a lime green crushed velvet boatneck worn with leopard-print pants (both from Limited Too, duh) and a cropped leather jacket.
Today, at age 20, I am
at this moment
drooling over: a midnight blue crushed velvet bodycon dress worn with a leopard-print silk scarf (both from Topshop, duh) and a cropped leather jacket.
That's right, bitches. Velvet is back, and with none of the prissiness it had in the '90s. You can thank Balmain's Christophe Decarnin (the man who singlehandedly revived the shoulder pad) for its new incarnation: curve-hugging bodycon dresses made for nights out in Arctic conditions.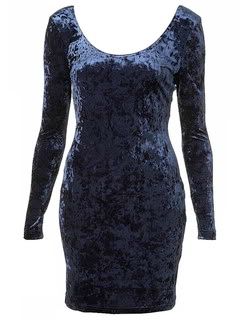 Controversial fabric aside - I adore velvet, personally, but I understand if you've filed it away with platform Skechers and
popcorn shirts
- let's talk about the cut. While bodycon dressing does require a degree of general fitness and proportionality, a slim-cut silhouette is far less intimidating than you might imagine. There may not be much of a margin for poochiness, but there's also no extra bulk added by the fabric, so if you've got confidence (and a reasonably flat stomach) there's no reason you can't pull it off. Long sleeves and a short hemline mean that allure needn't come at the cost of warmth; your gams will be just as catcall-worthy under a pair of black tights (choose sheer, not opaque, for maximum exposure).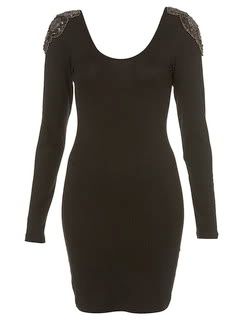 If velvet's not your scene, epaulets provide an equally up-to-the-minute embellishment. They're like the Kate Bosworth of shoulder pads: kind of frail and spindly, but not unattractive. Am I right? Am I right?
Whatever. Both dresses make me want to sit in a swanky city bar and sip amaretto hot chocolate as I watch snow fall through a picture window. Now if only I had a Nate Archibald (or a Trip Vanderbilt) to keep my Serena van der Woodsen company...