I love being naked. I may masquerade as a clotheshorse by day, but if I'm lounging around in the privacy of my apartment, I can't get out of my clothes fast enough. I'm not a cavewoman - I'll throw on a robe or a pair of booty shorts out of respect for a roommate who may not be as into my body as I am - but when I live alone, there's a good chance I'll eat, sleep, crack my knuckles, read and re-read
Harry Potter
, check myself out in Photo Booth, practice my Beyoncé booty shake and do all of my other embarrassing secret behaviors in the buff. Going
au natural
makes me feel more in touch with my body and holds me accountable to not, you know, eating entire jars of rainbow chip frosting in one sitting (don't judge. These things happen, y'all). Nudity can also provide a devilish confidence boost for those sure-to-be-awkward phone calls (I once nailed a job interview wearing only a watch).
It may come as no surprise, then, that when law or common decency require me to be clothed, I tend to gravitate toward body-skimming styles that hug my so-called curves. I have the kind of proportions – little waist, long legs, childbearing hips – that sound great in theory, but don't take to clothes nearly as well as they do to hypothetical male fantasies. Loose-fitting, androgynous styles do me no favors. The more I conceal, the bigger I look. As such, this whole sheer moment that's happening right now is particular exciting for me: I get to wear the high necks and the loose, blouse-y shapes that would otherwise send me on a one-way trip to Frumpsville without concealing the shapely silhouette that lies beneath (yep, I love me). But as I rifled through my sheer-shoaled wardrobe, I couldn't help but wonder: how does one bring spring and summer's floaty fabrics into fall?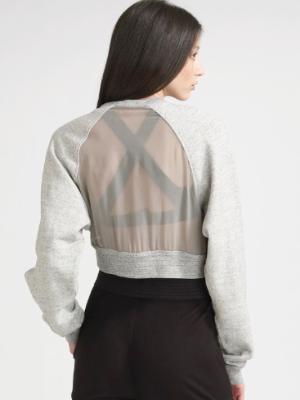 This Alexander Wang chiffon sweatshirt is DY. NA. MITE. The daring can wear it over an art deco bra à la the above photo, but a bodysuit or ribbed undershirt is a swell full-coverage alternative for the wallflowers/professionals/people who occasionally eat entire jars of rainbow chip frosting in one sitting. If you choose to go the exposed tummy route, you'd better love yours, and you'd better be pretty damn sure everyone else is going to love it, too. I've also seen knockoffs at Urban and Topshop with mesh or chiffon insets on the sleeves instead of the torso, eliminating the question of whether or not to reveal the inner workings of your gastrointestinal system to the world.
Regardless, you'll want to minimize the gap between your hemlines. Opt for a high-waisted skirt, perfectly fitted jeans (muffin tops need not apply), languid cargo pants or - whaddya know! -
leather shorts
. I also recommend balancing the peekaboo sex appeal of a sheer inset with a pair of flat boots or chunky platforms.
This is the part where most bloggers would make a crack about this look being "sheer brilliance." But I'll save you the forehead slap and the drum solo. You need that energy for shopping.